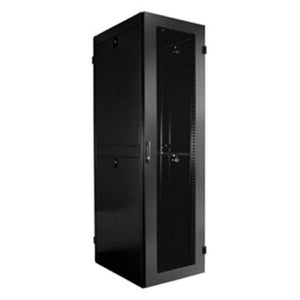 This Server Cabinet is designed and built to U.S. industry standards and provides a customizable solution for data center build-outs, network rooms, or IT closets.
Product ships flat packed - Requires assembly
47U - 88.50 inches (2,248 mm)
These standard network cabinets have a depth of 42.0 inches (1067 mm) and a width of 23.625 inches (600 mm).
Front door: Lockable clear plexiglass door
Rear door: Solid steel rear door
Security & Protection:
- Locking Doors and side panels prevent unauthorized access to equipment
- Two pairs of adjustable 19" EIA rails provide a stable mounting structure
Technical Specifications:
- Construction: Heavy gauge cold rolled steel with powder coated finish
- Static loading Capacity: 2,867 lbs.
- Fan capacity: 280 CFM total
- Compliance: ANSI/EIA RS-310D, IEC60297-2, DIN41194; Part 1, DIN41494; Part 7
- Standard EIA-310-D hole spacing
Features:
- Pre-installed recessed casters
- Adjustable sliding cable entries on the top and bottom panels
- Removable and lockable half-height side panels
- Reversible right or left front and rear doors
- Heavy duty 19in mounting rails with 10-32 threaded holes and RU markings
- Fully assembled in less than 30 minutes
Additional shipping charges may apply. Contact us for details.